Listen:
The Girlfriends -Gigi's Dolls! …And We're Not Talking Just Barbie.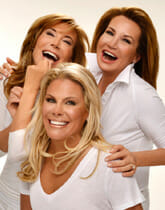 Podcast: Play in new window | Download
Shelley and Shauna visit their new Girlfriend Sherry to discuss the evolution of dolls through the years, how Sherry created her international doll shop, Gigi's Dolls…with a doll hospital and…the girls open their doll trunk after 40 years in storage to sell some of their own personal collectables.
If you have a passion for dolls you don't want to miss this show.