Listen:
Rock Splitting Politics – EXPLAINING WHAT HAPPENED IN MICHIGAN'S PRIMARY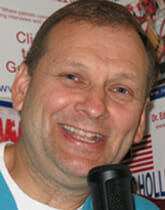 Podcast: Play in new window | Download
Doc deconstructs the Michigan primary as we enter this week's Super Tuesday contests as Romney, Santorum, Paul, and Gingrich wrestle for the Republican nomination. He also interviews Deborah Lane, President of the Abigail Adams Project. This week's show once again delivers Rock Splitting Politics delivered sledgehammer style as Doc gives his TOMBSTONE OF THE WEEK AWARD to Rick Santorum. Find out why Santorum gets Doc's wrath this week and get ready for another Rock Splitting Obama fact that deals with another broken promise by our President. Doc hits the news about the murders of Americans in Afghanistan after the discovery of Qurans being burned. And keep listening to find out which famous Jewish leader plans to make a left wing icon a re-election issue for the White House. Don't forget to get your copy of Doc's new book at www.teaparty.ms as you listen to this week's jammed pack show. Click on now to hear the best commentary anywhere about this year's presidential campaign—you will not hear Doc Holliday's unique views anywhere else!