Listen:
Rock Splitting Politics – EYES TURN TO MISSISSIPPI AND ALABAMA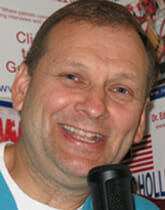 Podcast: Play in new window | Download
Doc speaks to Santorum supporter Foster Friess who phoned in during his world tour from India. Listen as Doc Holliday gets this proven free enterprise master to explain why he believes in Rick Santorum. Doc tells about what happened on Super Tuesday with Romney, Santorum, Gingrich, and Paul and how all eyes turn to Mississippi and Alabama now. Doc and Foster Friess determine one change Santorum needs to make—and you will get to hear Doc make that very point to Rick Santorum in person on this week's show. This week's TOMBSTONE OF THE WEEK AWARD goes to a group from the White House—tune in to find out. And don't miss this week's Rock Splitting Obama fact that you must know about! Rock Splitting Politics is picking up more and more listeners every week thanks to you telling your friends about it on Facebook and in your work place. Together we are making a difference as we all do a little more each day to make sure every American remembers in November the three most important words of 2012—GET OBAMA OUT! Click on now for one of our best shows ever and coverage of this campaign for the Republican nomination unlike any other. Bold, unique and proud to be American–just like you!