Listen:
Rock Splitting Politics – WHY DEMOCRATS ARE BETWEEN BARACK AND A HARD PLACE!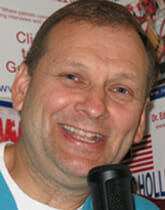 Podcast: Play in new window | Download
Doc gives some specific insight into what former President Bill Clinton may be doing right now. And you must listen to Doc's story about a cow from Chicago and what it means to America today. This week's TOMBSTONE OF THE WEEK AWARD goes to President Obama for his words about the private economy. And more Democrats are finding themselves between Barack and a hard place. Discover who in this week's Rock Splitting Obama fact. Don't forget to go to GET OBAMA OUT NOW.COM and order Doc Holliday's book today.