Listen:
Rock Splitting Politics – WHY MINORITIES SHOULD NOT VOTE FOR PRESIDENT OBAMA!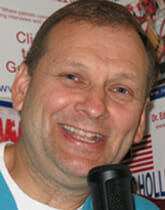 Podcast: Play in new window | Download
Listen as Doc interviews African American and Hispanic voters who will not be voting for President Obama and they hope their stories will convince other minorities across the nation will join them in voting in a new president! Listen as Doc interviews television and radio personality Meeke Addison, author and professor Frank de Varona, and a gutsy civil rights' protector by the name of Michael Johnson. Doc plays a clip from Rev. William Owens' 30 second commercial that is now airing in battleground states, (click here to see it.) And get this week's election news update brought to you by FreedomWorks! Doc talks about the U.S. Senate races and encourages every freedom loving American to not get complacent with the polls but to work like our nation's freedom depends on what we do together—because it does!! Click on and send this show out to minorities and freedom loving Americans everywhere!