Listen:
Rock Splitting Politics – WHY ALL FREEDOM-LOVING AMERICANS SHOULD VOTE FOR MITT ROMNEY!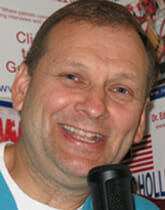 Podcast: Play in new window | Download
Ladies and gentlemen throughout the land, this is the last week before the election and what you do this week will determine the course of America's future! Listen as Doc interviews the economic, common sense specialist, Foster Friess! Let there be no doubt who you should cast your vote for if you want this economy and this nation to turn around. Doc gives a historic perspective about the 2012 elections and charges you, the voters across America, with a challenge—-what will be your broken bayonet for the 2012 election? Click on now to discover what Doc means and send the link to every voter across the battleground states as Doc compares this final week of the 2012 election season to Pickett's Charge on the last day of the Battle of Gettysburg. Romney/Ryan or Obama/Biden, the choice could not be more clear after America hears Doc Holliday this week. Doc also has a quick clip about PAC's as he interviews Scott Wheeler of the National Republican Trust PAC. Next week's show will be put up after this historic election on November 6th. Until then do the three important challenges that Doc inspires all conservative voters to do this week!!