Listen:
Impeachment Insights and the Second Half of Author Daphne Barak's Interview!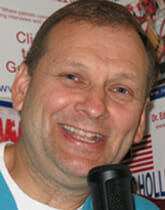 Podcast: Play in new window | Download
Doc Holliday provides unique insights to the impeachment chaos going on right now and author, Daphne Barak, engages us about her riveting new book, To Plea or Not to Plea.  Her book is about Rick Gates who will be sentenced this week along with former General Flynn—-if the judges proceed with plans!  Everyone in America should listen to this interview as Doc Holliday and Daphne Barak bring out some election shenanigans perpetuated by Democrats that you may have never heard about.  In fact, some things heard in this interview have never been talked about until now.  Click on this week's show to better understand why Mueller investigators zipped their mouths shut about when they knew that there was no collusion, and Daphne and Doc give some insights about the infamous Access Hollywood tape. Daphne Barak has had Hillary Clinton in her home when she used to be a Democrat and she has been longtime friends with Donald Trump so this interview is one show you want to tell your friends all about. Happy Hanukkah and Merry Christmas cheer to all and please send out this link to all your friends so that they can be better informed about Rock Splitting Politics as we head into 2020.