Listen:
75th Anniversary of the Liberation of Auschwitz!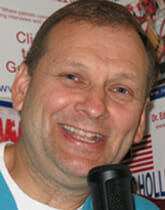 Podcast: Play in new window | Download
75 years ago this week the Nazi terrorizing and murderous crimes against humanity happening at Auschwitz came to an end. Auschwitz was liberated by Russian troops who were driving the Nazis out of Poland. On this week's show,
Doc Holliday
speaks with author and attorney Dean Reuter talking about this subject in his new book,
The Hidden Nazi: The Untold Story of America's Deal with the Devil.
The horrors of the Holocaust were intensified by the cold, evil efficiency of a Nazi general educated as an engineer. Nazi General Hans Kammbler has his egregious story told by Dean but why was his supposed suicide faked? Why would America hide this murderous monster? Read the book and listen to this week's show to better understand why we need to never forget what happened not too long ago. Be sure to tell your children and students about this show and let them listen to it—never forget. Doc also ends the show with his thoughts about what is going on at the trial in the U.S. Senate. Click on now as we celebrate the 75th anniversary of the liberation of Auschwitz!