Listen:
Pastor Paula White-Cain, President Trump's Spiritual Adviser, Interviewed about Her New Book and the Coronavirus Emergency!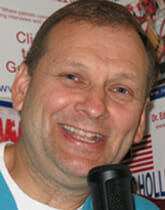 Podcast: Play in new window | Download
Join
Doc Holliday
as he interviews worldwide known evangelist and author,
Pastor Paula White-Cain
about her new book,
Something Greater
.  In this interview Doc discusses her childhood in Mississippi, fatherhood and lack thereof, and then shifts the conversation to our national emergency. Pastor Paula is the spiritual adviser to President Trump which she talks about in her new book. In her book she opens up her life about the thrills of victory and the agony of defeat (using a sports metaphor.)  Pastor Paula has indeed taken a journey that few have ever traveled and she talks about her journey with Doc Holliday. Don't miss this exciting and timely interview with Pastor Paula White-Cain and she evens speaks about her friend and husband Jonathan Cain from the legendary rock group, Journey.  Click on now for the show and don't forget to check out and like our
FaceBook
page, too!