Listen:
Former General Spalding Informs Us About North Korea and China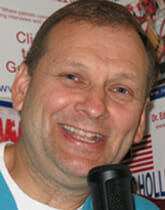 Podcast: Play in new window | Download
Join
Doc Holliday
this week as he interviews former Air Force
General Spalding
about his new book,
Stealth War: How China Took Over While America's Elite Slept
. The Asia Pacific area was the general's expertise while in the military and he is now informing Americans what we must do to keep China from dominating us. Doc Holliday also asks him about North Korea and the mystery surrounding Kym Jong Un. What a fantastic show when one realizes that this entire coronavirus catastrophe might have been exacerbated by evil decisions made by the Chinese Communist Party—-and Doc Holliday asks General Spalding that very question! Doc cannot let this show go without confronting the damning information released by the Justice Department last week concerning the outrageous conduct of the FBI leadership under James Comey. Doc plays one of his exclusive clips of General Flynn talking with  Doc  at the RNC in 2016. Hang on to your seat this week, click on now for an informative 30 minutes that will enlighten you and drive you to love America even more!