Listen:
African American Author Vince Ellison Tells Why He Left the Democratic Party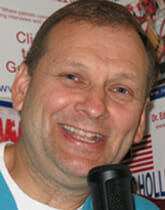 Podcast: Play in new window | Download
Doc Holliday
interviews African American author Vince Ellison about his sensational book,
The Iron Triangle.
  When it comes to the African American community what does the Iron Triangle mean? How could a loyal voter of the Democratic Party suddenly start voting against all democrats?  What insights from his professional career in the prison systems mean for the 2020 presidential election?  These and many more cogent questions are answered by the author of
The Iron Triangle
on this week's Doc Holliday's Rock Splitting Politics! Educate yourself and others by listening to this podcast and sending this link to your friends—our country's future depends on information from men willing to stand strong against the prevailing currents of today's rotten systemic culture polluted by decades of untruths spread by left-wing socialists and communists. Check out and like our
FaceBook
page, too!