Listen:
Evangelicals and the Trump Test: Dr. Michael Brown Explains!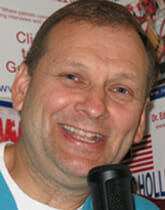 Podcast: Play in new window | Download
What does it mean for evangelical Christians to have a Trump Test? In an extraordinary conversation with author Dr. Michael Brown, Doc Holliday dives into the questions that help us focus on what is important to see in this 2020 election year. Dr. Michael Brown has a tremendous presence in the evangelical community and he unravels why Trump can be both good and bad. Dr. Brown explains his insight into why he believes evangelicals must decide" why am I voting?" Very timely and exciting presentation of the facts before us as the fate of America is resting on these next few months and who will be our next president. Great interview about this upcoming election in an uncertain time building on Doc Holliday's conversation with former speaker of the house, Newt Gingrich, last week. Click on for another fantastic program to help you focus on these upcoming very important weeks in the life of our nation!