Listen:
GOP Congressional Candidate for MS-2, Ron Eller Speaks with Doc Holliday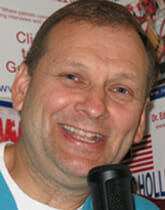 Podcast: Play in new window | Download
Join host Doc Holliday as he interviews congressional candidate Ron Eller. Ron is running in a GOP primary runoff to see who will be the candidate to take on Democrat powerhouse, Congressman Bennie Thompson, who is the Chairman of the House Homeland Security Committee.
Congressman Thompson is also the head of the January 6th Select Commission which has been making waves across the country in their opposition one-sided presentation against President Trump and the nation is watching this congressional race.
What did President Ronald Reagan tell personally to then Sgt. Ron Eller? How does Ron Eller stand on national and local issues? Can Ron Eller win in a general election in a decisively blue drawn district?
Does Ron Eller have a plan to win the general election if he is the nominee? As you listen to Doc Holliday's interview discover some of the issues that are now arising in the election cycle and start preparing yourself and your family on how to handle the issues affecting this mid term election. Click on for a great show and be sure to send a link of this show to your friends and neighbors!