Listen:
The Girlfriends – Spring Time for Girlfriends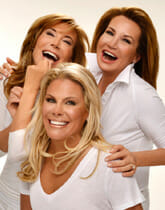 Podcast: Play in new window | Download
This week, Shelley, Shauna and Whitney celebrate a birthday in the Big Apple, Girlfriends-style, including a sneak peak at Better Midler's new Broadway show. The Terrific Trio also dish out some great summer swimsuit tips, update you on their experiment with garcinia cambogia, plus much more. Tune in now!