Listen:
The Girlfriends – Relaxing Like a Girlfriend (Not As Easy As It Sounds)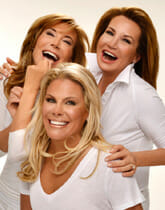 Podcast: Play in new window | Download
This week, Shelley, Whitney, and eventually Shauna, breakdown the struggle of finding time to relax during the controlled chaos that is the life of a Girlfriend. Whitney relates some timely relationship advice from her mom, that was sparked by changes in the economy, of all places. And everyone regales us in stories from the rink, life as a hockey. Plus Celebrity Dish & much more!