Listen:
The Girlfriends – Shauna Misses Out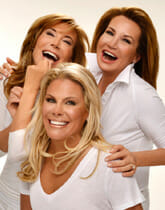 Podcast: Play in new window | Download
This week, Shelley and Whitney talk about life as hockey moms and celebrate the Chicago Blackhawks. Also this week, reaction to Paula Dean, the man's role in the home and trading places with a dog. Plus Celebrity Dish on Kim/Kanye's baby name & much more!