Listen:
The Girlfriends – 081913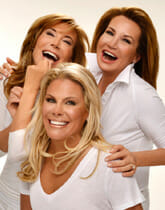 Podcast: Play in new window | Download
This week, Shelley, and Shauna miss 'The Blonde Bombshell'-Whitney but carry on without to tackle the tenuous issue of teen sex and sexting. When is it ok for teen couples to be alone behind closed doors? Also, the ladies use the Anthony Wiener scandal for inspiration, discuss the pros and con of medical marijuana, and highlight the big plans for the new season of 'The Girlfriends'. -Plus Celebrity Dish & much more!