Listen:
The Girlfriends – Back in the Saddle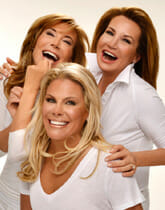 Podcast: Play in new window | Download
This week, all three of the Girlfriends are back! Shauna, and Shelley interrogate Whitney over her silent summer retreat in the woods, you won't believe what she learned about herself. Also, the mysterious powers of the New Moon are explained and what exactly is the 'Wiener Pile' -Plus Celebrity Dish & much more!