Listen:
The Girlfriends – An Empty Nest With an Open Mind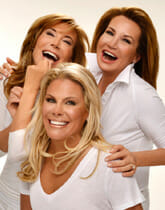 Podcast: Play in new window | Download
This week Shauna and Whitney tackle the one of the hardest moments in any mother's life, that time when send your kids away to school leaving an empty nest at home. Whitney highlights the tribulations she's dealt with and her tips for coping, Also, the Girlfriends share some great reads and even better diets. -Plus Celebrity Dish & much more!