Listen:
The Girlfriends – The Girlfriends Guide to Putting on Show & Ordering Starbucks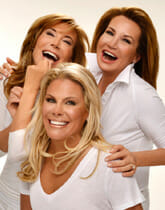 Podcast: Play in new window | Download
This week Shauna and sister Shelley review new changes at Starbucks, Michael Buble, and Shelly's latest even, wherein, she brought down the house. The sisters also tackle the best Fall fun activities, including Shauna's fishing tips. -Plus Celebrity Dish & much more!