Listen:
The Girlfriends – Girlfriends Thanksgiving Extravaganza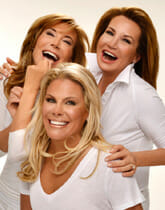 Podcast: Play in new window | Download
This week Shauna, Shelley and Whitney give thanks for all they have. Whitney talks turkey about the true meaning of Thanksgiving. Shauna solicits help cooking the big meal and Shelley dishes are a future intimate purchase. -Plus Celebrity Dish & much more!