Listen:
The Girlfriends – Girlfriends Guide to Living Forever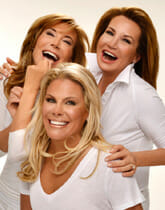 Podcast: Play in new window | Download
This week Shelley and Whitney layout their tried and true health tips in hopes you'll live forever. Things like chromosome maintenance, the power of dark chocolate, and the Optimal Aging Conference. The Girlfriends also bring you the touching tale of the Australian surf sisters, two women who found health and well being after retirement. -Plus Celebrity Dish & much more!