Listen:
The Girlfriends – The Girlfriends Holiday Gift Guide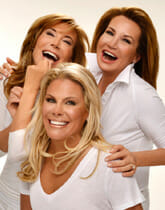 Podcast: Play in new window | Download
This week Shauna, Shelley and Whitney hand out gift buying wisdom that'll make everyone on your list happy. The Girlfriends breakdown men's fashion gifts, great clothes ideas for boys, the gift of hope and intimate gift ideas for you and that someone special. Plus tips for beating holiday stress, avoiding bad breath at holiday parties and they ask the question – why does customer service go down hill around the holidays?