Listen:
The Girlfriends – The Girlfriends' On Crusade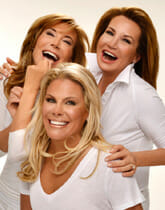 Podcast: Play in new window | Download
This week the Girlfriends start their crusade against American Apparel for their vulgar and borderline pornographic advertising campaigns, including a very offensive "Pussy Power" campaign. The Girlfriends also give their take on the Olympics so far, what did you think of that opening ceremony? Plus Celebrity Dish & much more!