Listen:
The Girlfriends – The Girlfriends Are Back!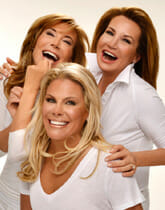 Podcast: Play in new window | Download
This week the Girlfriends are back from their Spring Break and amped up to tell you all about it. Shauna has some great stories about college visits with her kids that inspire a spirited debate about grades, ACT/SAT scores and class ranks. Plus, the interesting story of Whitney's past life as a Girl Scout, one Girl Scout that's setting records and why Barbie should be banned from the scouts. Meanwhile, you won't believe what Shelley did on her Spring Break. All that & much more!