Listen:
The Girlfriends – 042114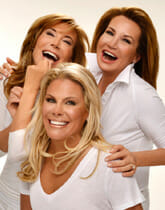 Podcast: Play in new window | Download
The 'Blood Moon' is upon the Girlfriends and Shauna has some unique insight gleaned from her spiritual adviser. Also, Shelley wants to know what is on top of Tom Cruise's head, while Whitney tells the story of her flooded apartment. Plus, spring cleaning tips, breaking down the 'hookup culture' surrounding pop culture, why protecting kids from adversity might not be the best policy, and what is elderly porn? All that, plus Celebrity Dish & much more!