Listen:
The Girlfriends – The Girlfriends Tour de Force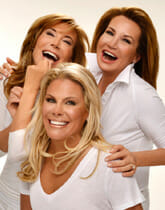 Podcast: Play in new window | Download
This week Shelley and Whitney bring you a duet performance packed with their unique look on the week's news. Whitney has a bone to pick with a certain college on her son's wishlist. Shelley dishes on Alec Baldwin and Donald Sterling. And would Bill Clinton make a good 'First Dude' if Hillary runs for President? All that, plus Celebrity Dish & much more!