Listen:
The Girlfriends – The Girlfriends Are Ready For Summer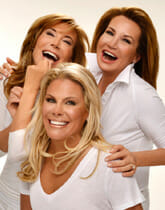 Podcast: Play in new window | Download
This week, the Girlfriends get back into the swing of Summer and all the craziness that entails! For starters, graduations and the parties that come with them have taken top billing on the Girlfriends' agendas, secondly only to college visits. Speaking of college, Whitney has some interesting thoughts on college acceptance policies, Shauna vents about campus trips and Shelley shells out some sage advice. Also, the GFs say goodbye to Maya Angelou, weigh in on Hillary Clinton's presumed run for President, gun violence in America, and California Chrome. Plus, the ladies review a product you shouldn't be without, PooPourri. All that, plus celebrity dish and more!