Listen:
The Girlfriends – The Girlfriends' Big Win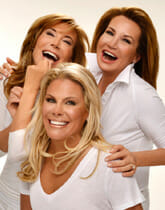 Podcast: Play in new window | Download
This week, Shelley & Whitney celebrate the ouster of the embattled American Apparel CEO, Dov Charney. If you recall, the GFs started a campaign to raise awareness to Dov Charney's questionable practices, including the company's borderline pornographic ad campaigns. The ladies also share take on President Obama's plan to have his daughters work minimum wage jobs. Whitney comes to grips with her son's college dorm condition, and Shelley raises the question of 'Who costs more to raise, sons or daughters?' The answer was surprising. All that, plus celebrity dish and more!