Listen:
The Girlfriends – Back At It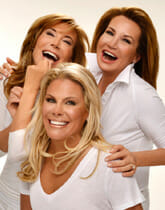 Podcast: Play in new window | Download
This week Shelley and Whitney weigh in on Ebola in America asking the questions: Do you trust the medical community? Is the media scarring us for ratings? Whitney gets Shelley's reaction to an op-ed written by a noted bioethicists that says people shouldn't live past 75. Also, the ladies talk about a touching story of one women striving to find a silver lining in her battle with cancer. All that plus Celebrity Dish & much more!