Listen:
The Girlfriends – Fall Into The Season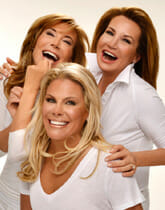 Podcast: Play in new window | Download
This week, Shauna, Shelley, and Whitney tackle everything from elections & Halloween to Taylor Swift & Ebola. Whitney has the secret to being the most popular home around for Halloween candy, Shauna has the story of a different kind of 'Mile High Club,' and Shelley weighs in on the tragic story of Brittany Maynard. Plus how sex can stave off prostate cancer, Himalayan super 'Viagra,' a magic pill for weight loss, Celebrity Dish & much more!