Listen:
The Girlfriends – Holiday Gift Ideas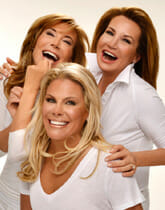 Podcast: Play in new window | Download
This week, Shauna, Shelley, and Whitney are getting into the holiday spirit with some of their favorite holiday gift ideas for the special people in their lives.  Shauna tells the tale of her Black Friday shopping excursions. And have you heard of the hot new trend, colored lip tattoos?  Whitney has all the details, plus Celebrity Dish & much more.