Listen:
The Girlfriends: The Year of The Girlfriend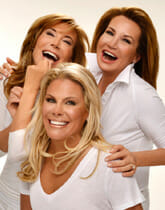 Podcast: Play in new window | Download
This week, Shauna, Shelley, and Whitney are back at it for 2015.  The Girlfriends layout their new year's resolutions, look back at the year that was 2014, and look forward what will come in 2015. Whitney & Shelley foresee the world coming together in the wake of terrorist actions in Paris.  Shauna takes the Girlfriends through the Golden Globes 'Best & Worst Dressed'.  All that plus Celebrity Dish & much more!