Listen:
The Girlfriends – Oscar Preview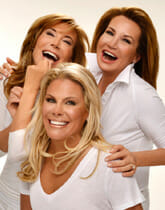 Podcast: Play in new window | Download
This week, Shauna, Shelley, and Whitney breakdown their favorite Oscar nominations, the Miss Universe contest, and should kids see their parents naked? Shauna comes clean on her addiction to chocolate covered almonds.  Shelley has some tips on for the Miss Universe contestants. And Whitney asks the question: Do single men make better soldiers or lovers, or both? All that plus Celebrity Dish & much more!