Listen:
The Girlfriends – Neil Patrick Harris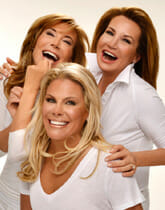 Podcast: Play in new window | Download
 This week, Shauna is alone! Well, not entirely, producer Jeff plays the role of Whitney & Shelley has they jet-set across the globe.  Topics on the docket for discussion this week are the negative reviews that Neil Patrick Harris has received over the Oscars, the Kardashian Klan signing a deal for $100 million, a study that finds women don't shower enough, and the mystery behind the missing $150k pearl dress.  All that plus, Celebrity Dish and more!