Listen:
The Girlfriends – A Short Show w/Shauna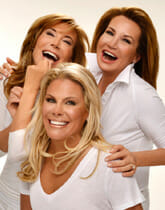 Podcast: Play in new window | Download
This week, Shauna and producer Jeff carry the show. Shauna opens things off with some introspection and reflection on relationships, arguments, and reconciliation. Shauna brings some great insight and perspective like only she can. Things turn to Bruce Jenner and his relationship with his family. It's a short show this week, but fear not, next week's show will run the gamut and is one not to miss!
Check out the latest photos, news, and products – www.The-Girlfriends.com