Listen:
The Girlfriends – Getting to Know Mom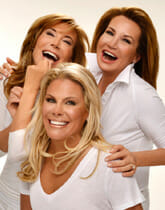 Podcast: Play in new window | Download
This week, Shelley visits with her mother about the incredible life she has led and to compare how different the world is today.  Our favorite listeners have heard many stories about Mom, but would you believe Shelley's mom was on track to become a movie star during the Golden Age of cinema? How about her success as a tap dancer? There is a lot of sage wisdom on the show this week including a unique view on the Kim Kardashian and the whole Kardashian Klan.