Listen:
Car Care for the Clueless – Customers' get their car questions answered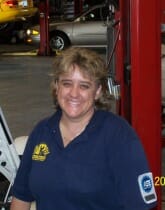 Podcast: Play in new window | Download
This week on "Car Care for the Clueless", Pam takes questions from customers at her shop, Pam's Motor City Automotive, in Florida. First on at the mike is Colleen. She wants to know about the proper time to rotate her tires. Pam explains the difference between severe duty and normal driving rotation schedules. Also, she briefly goes over checking your tires for mis-alignment.
Her second guest is Gene, from Illinois. He had heard that it was ok to drive around — for a while — with the check engine light illuminated on the dash. Gene is curious if this is fact or just another urban myth. Pam explains the pros and cons of driving while your vehicle is "telling" you to seek service.
Also, our gadget guru Peter Sudak is back to talk about the difference between seat covers for vehicles that have safety air restraints build into the seat, itself. He also mentions that not following the rules with the covers could cause you and your passengers injuries.
Pam's product is Wagner brake components. She uses them on her car, her parents cars and her fiance' vehicle, too! Listen why you want the best brake pads on your car or truck.
The radio show is based on her latest book: "Car Care for the Clueless (or How You Can 'Make Money' While Maintaining Your Vehicle". It is available on amazon.com/books, pamsmotorcity.net or carcarefortheclueless.com. It explains how you can "make money" while keeping your vehicle on the road.