Listen:
Car Care for the Clueless – Protecting your tire investment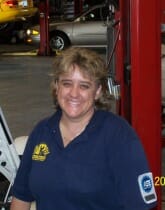 Podcast: Play in new window | Download
On this week's episode of Car Care for the Clueless, host Pam Oakes discusses how to protect your vehicle's tires by having a proper alignment. Jerry Oakes, 45-year-plus automotive tech and Pam's dad, talks about why your alignment is so important to you and your vehicle.
This week's Cheap Car Care tip concentrates on a quick fix for your headlights. Remember: It is important to see and be seen. This cheap fix is worth 30 minutes of your time.
Our email question of the week, Ted from Oklahoma, inquires about his fuel (gas) cap. Pam explains how easy it is to take care of this simple object that can create false, horrible issues if not maintained.
Our Tire Tip of the week compliments Pam and Jerry's conversation regarding alignments and how you, too, can keep track of your tires.
Peter Sudak, our gadget guru, is back with a winter-oriented object. This week's gadget makes you and your passengers' commute a little more comfortable.
This week's Automotive History Lesson talks about disc brakes and how important they are to you and your vehicle's braking ability.
If you, too, want to be a more informed car owner, get Pam's book at carcarefortheclueless.com or on Pam's shop web site, pamsmotorcity.net