Listen:
Car Care for the Clueless – Air vs. Nitrogen: What should you be putting in your car's tires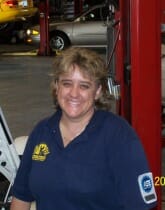 Podcast: Play in new window | Download
This week on Car Care for the Clueless, host Pam Oakes catches up on her e-mails ([email protected]) regarding individual car care questions. Her first email covers what to put in your vehicles tires: Atmospheric air or nitrogen. You'll be surprised on how much money you can keep in your wallet on this tire tidbit.
Her next email question has to do with engine oil leaks. Pam explains how simple it is to locate any type of fluid leak that both you and your ASE-certified technician can see with the naked eye – based on the same concept of the 70s black-light posters
Pam's third emailer talks about her tire pressure monitoring system (TPMS) on her vehicle and why it triggers so often. Pam explains how to take care of this instrument panel signal by taking care of your tires.
Peter Sudak, our gadget guru is back with another economically priced car care device to help make your life easier.
And, for those of you that want to know more about your car, Car Care for the Clueless: Or How You Can 'Make Money' While Maintaining Your Vehicle is available in paperback, for your digital media or for your Kindle at pamsmotorcity.net, or carcarefortheclueless.com.