Listen:
Car Care for the Clueless – Services YOU can perform to maintain vehicle value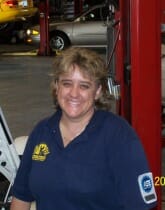 Podcast: Play in new window | Download
This week on Car Care for the Clueless, host Pam Oakes gives her listeners car care tips on how to restore a vehicle to its showroom luster. First, she explains that trash and debris in the cab of the car lead to a dysfunctional vehicle. Pam tells everyone — step-by-step — on how to clean out that messy interior and return carpet, seats and windows to "like new" condition, compliments of Armorall products.
Next Pam tells her audience on how to properly compound and wax the exterior of the vehicle to bring back that superior shine. She also explains how to get that "haze" off of your headlights. Products used by Pam include Maguire's polishes and compounds.
Our gadget guru Peter Sudak is back to tell Car Care for the Clueless listeners on how to clean blackened hubcaps and rims. Turtlewax has a product out that makes that grime disappear with little effort.
And, remember, you can purchase Pam's book: "Car Care for the Clueless (or How You Can 'Make Money' While Maintaining Your Vehicle)" on her web site carcarefortheclueless.com or pamsmotorcity.net (her Florida shop's site). If you have a car care question for Pam, you can sent your email to [email protected].