Listen:
Car Care for the Clueless – Revving up your knowledge of your instrumental panel, tachometer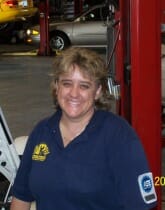 Podcast: Play in new window | Download
This week on Car Care for the Clueless, we talk to Tom from Ohio regarding the usefulness of the tachometers on newer vehicles. If you don't know what one is, now's the time to understand what that dial does on your instrument panel. You know, the one next to the speedometer? Tachometers didn't start out in cars and trucks, but found their way onto the dashboard via locomotives.
Also, Tammie from Florida asks about getting rid of that "musty" odor common in summertime air conditioning vents.Host Pam Oakes has a quick, easy and — believe it or not — cheap way of getting rid of the mildew-mold smells that vents from the vehicle's climate control.
And, our gadget guru Peter Sudak is back with another summertime "must have" gadget to pack in your vehicle for that holiday road trip
The radio show is based on Pam's book: Car Care for the Clueless (or How You Can 'Make Money' While Maintaining Your Vehicle). It is available at carcarefortheclueless.com or at the shop website pamsmotorcity.net.
Can't get enough of our car tips? Go to the webtalkradio.net archive section to listen to our past episodes.