Listen:
Car Care for the Clueless – Two meanings for "air bag"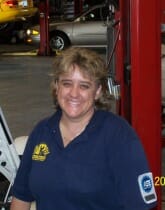 Podcast: Play in new window | Download
This week on Car Care for the Clueless, our host Pam Oakes will be discussing the difference between two automotive components on your car with the same name: air bag. The safety restraint is called an "air bag" and on some vehicle suspensions, there are "air bags" in place of suspension springs — same name, two different meaning.
Our gadget guru Peter Sudak is back to talk about how "fix a flat" can possibly ruin your tire pressure sensors — even if left in the tire for a short period of time.
Pam tells her listeners how to "make money" while maintaining their vehicle. And, it only takes plus or minus five minutes
Car Care for the Clueless radio show is based on Pam's book, "Car Care for the Clueless (or How You Can 'Make Money' While Maintaining Your Vehicle)". Just go the the Car Care for the Clueless web site: carcarefortheclueless.com or Pam's shop web site: pamsmotorcity.net for literature details.
Also, don't miss out of past shows of Car Care for the Clueless. Just click on the archives section of WebTalkRadio.net for previous recordings.