Listen:
Car Care for the Clueless – How much is that repair?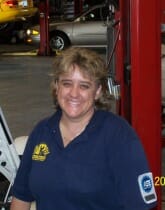 Podcast: Play in new window | Download
Do you ever wonder why it is so costly to repair your vehicle? Some parts costs have gone up more than a 1000-percent in the past decade. Why? Host Pam Oakes, ASE, discusses the price increase of parts, operating costs with fellow ASE-certified technician and former shop owner Jim Shewmaker. Also, how you can protect your wallet and vehicle against the high cost of auto repairs.
Our email letter from listener Annie, from Florida, wonders why she has to replace the battery in her vehicle more often than decades before. Pam explains in layman's terms how the battery works and how you can protect your investment.
Our gadget guru Peter Sudak is back with another accessory for your vehicle that you can use year-around. Now available for your car or truck: a vehicle safe. Yes, they have "portable" safes for your car or truck. Load your important documents or items in the safe and lock in place to a fixed brace inside the trunk. What an interesting concept to keep items safe in your vehicle.
Also back by popular demand, service bulletins for your car or truck. This week Pam focuses on dealership (ONLY) purchased, slip-on seat covers. There is a recall regarding the customer covers for those of us who have seat air restraint systems in our vehicle. There are dozens of manufacturers replacing the seat covers with those more friendly for the air bag support. Contact your purchasing manufacturer or call the National Highway Traffic Safety Administration, at 1-888-327-4236. Also, an Acura safety recall for power steering hose issues. (Reference # 08-016 for vehicles between 2004 through 2008.) If you had not addressed this issue with your Acura, contact your local dealership or the National Highway Traffic Safety Administration, at 1-888-327-4236.
The radio show is based on Pam's book, "Car Care for the Clueless (or How You Can 'Make Money' While Maintaining Your Vehicle). You can purchase the book or email Pam a car care question at the web sties: carcarefortheclueless.com or pamsmotorcity.net