Listen:
Car Care for the Clueless – To Patch or Plug: That is the question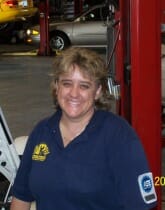 Podcast: Play in new window | Download
You're stuck on the side of the road, tire flat as a pancake. So after the motor club comes to your aide, do you go ahead and let them plug the tire and get you back on the road? Or, tell them to put the spare on the vehicle and have a shop professionally patch the hole in your tread?
If you chose question # 2, you've been paying attention to our broadcasts. If you chose question # 1, this week's show is a must for you!
Car Care for the Clueless host Pam Oakes chats with her dad, Jerry Oakes — a 45-year-plus automotive veteran — about the significance of keeping your tires rolling along the asphalt as long as possible. (Tires are expensive!) Learn how you can maintain one of the most important components of your car or truck. Also, Michael emailed Pam asking her if she had ever heard of a symptom the vehicle was exhibiting and the solution turning out to be something entirely different? His brake and ABS light illuminated on the dash — but that wasn't the problem. Wait until you hear what happened, next.
Our gadget guru is back with another vacation travel item — economically minded, of course. Peter Sudak takes his 22-plus years of automotive experience and helps you help yourself while traveling the roadways this summer vacation season.
And back by popular demand, Pam lets you know about two vehicle recalls open for Hyundai and Chrysler-Dodge-Jeep owners. Approximately 65000 Hyundai Elantras are in dire need of a fuel pump replacement. The original equipment part is giving engineers, techs and owners heck with ghost symptoms. To see if your vehicle is included in the Hyundai recall (#08V429000/PE08044), give them a call, at 1-800-633-5151.
And for all you Chrysler, Dodge and Jeep owners having difficulties while pumping gas, they are aware of this issue with recall #14-001-09. To see if your vehicle is included in the Chrysler-Dodge-Jeep issue, call your local dealership and give them your vehicle identification number. If you need more help with either the Hyundai or Chrysler recalls, call the National Highway Traffic Safety Administration hotline, at 1-888-327-4236.
If you would like to purchase Pam's book, "Car Care for the Clueless (or How You Can 'Make Money' While Maintaining Your Vehicle)" go to her web site carecarefortheclueless.com or her shop's site at pamsmotorcity.net. It is available in paperback and digital media.