Listen:
Car Care for the Clueless – Last minute directions for your summer vacation road trip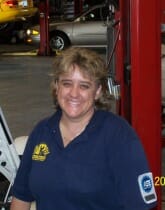 Podcast: Play in new window | Download
This week on Car Care for the Clueless, host Pam Oakes discusses how to make your last chance, Labor Day weekend trip a success. In-studio guest is our own gadget guru, Peter Sudak. He adds his expert opinion on how to prep your vehicle for that end of the season road trip.Both ASE-certified technicians will explain why you should have your vehicle checked over for safety before hitting the highway.
Pam and Pete also discuss rent-a-car techniques for those of you who choose to fly to your destination.
On this week's agenda for Trouble Service Bulletins: First Pam lets listeners know about the exterior lighting recall for 2006-2007 Kias. This campaign number is #09V130000 and covers those Asian cars made between October 2005 through January 2007. For more information on this bulletin, contact Kia's consumer assistance center, at 1-800-333-4542.
The second recall Pam talks about is for various manufacturers. This includes: 2000 Ford E150, 2006 Toyota Sienna, 2007 Ford E350 and 2000 Dodge Grand Caravan. The seat manufacturer for these particular vehicles have recognized a bad weld between the seat and the frame that is prone to come apart. This bulletin number is 10V270000. Owners of these vehicle can contact Access at 1-831-722-6804, for more information.
If you have one of the above vehicles and need further assistance, you can contact the National Highway Safety Administration, at 800-424-9393.
If you would like to learn more about your vehicle, go to Pam's web site carcarefortheclueless.com or her shop's web site pamsmotorcity.net for access to her book, "Car Care for the Clueless (or How You Can 'Make Money' While Maintaining Your Vehicle)"