Listen:
Car Care for the Clueless – Customers learn to communicate with their auto tech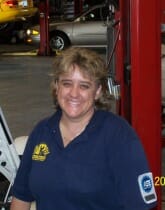 Podcast: Play in new window | Download
On this week's episode of Car Care for the Clueless, host Pam Oakes talks with fellow ASE-certified technician Jimmy Shewmaker the proper way to communicate with your auto technician. Being a savvy car care consumer, you too can help your professional diagnose and repair your vehicle at a reduced rate — just because you gave them all the information regarding your vehicle's issues. Also, Jim and Pam touch on what to do when you get no results from a shop that keeps repairing the same problem.
Our email of the week gives tips on what you should do to help yourself at the repair shop. Pam gives examples on how to address issues with your technician that turns into positive results for you, your vehicle and your wallet.
Our gadget guru Peter Sudak gives us a winterizing tip: antifreeze. And why you need to keep a gallon in your garage or shed — because they are not created equal. You cannot mix and match and Peter goes over and tells us why it is so important to keep some on hand.
Our Trouble Service Bulletins this week focus on Hyundai and Mazda. Hyundai has a recall (#08V161000) regarding the air bag safety restraint system. They are recalling 393,714, of their 2006-2008 Sonatas. Call Hyundai at (800) 633-5151 or the National Highway Safety Administration hotline at (888)327-4236 for more information.
Mazda wants to reprogram your vehicle's command module (for the engine performance) on various 2006-2007 CX-7, Mazda3, Mazda6 and Mazda6 2.3 vehicle. This free reprogram will help improve your fuel economy – and the money you get to keep in your wallet. The campaign number is 4907H. For more information, call Mazda at (800)222-5500, option #4.
And as always, if you want to learn more about your car or truck, Pam's book "Car Care for the Clueless (or How You Can 'Make Money' While Maintaining Your Vehicle)" is available via her web site, carcarefortheclueless.com, or on her shop's web site, pamsmotorcity.net.