Listen:
Car Care for the Clueless – What's the difference between AWD and 4×4?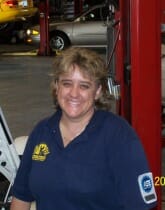 Podcast: Play in new window | Download
On this week's episode of Car Care for the Clueless, host Pam Oakes talks with Master ASE-certified technician Pablo Sarmiento regarding the difference between all-wheel-drive (AWD) and four-wheel-drive (4×4) cars and trucks. He explains to listeners that if you really don't need the extra traction, don't buy the option. Tune-in and find out the traction facts.
And how many times have I told you NOT to drive through standing water. Well, a listener wrote in and told us they did just that and now paying – literally – the consequences. Barbara from New Jersey said that the standing water across the roadway didn't appear to be "that high". Now, she is dealing with a car repair that is not only expensive, but unnecessary. Always remember: Do NOT drive through flooded roadways. I bet Barbara won't do it, again.
Peter Sudak, our gadget guru, is back with a pre-winter car item that is sure to warm your soul.
And our Trouble Service Bulletin second highlights General Motors and Honda. For those of you with a 2009 Cadillac CTS, Escalade, Chevy Suburban or GMC Yukon equipped with automatic wipers, there is an update to you non-functioning system. The bulletin number is 09-109A. Call General Motors at (800) 833-2622 for details.
Acura TL, 2009, has an issue with the lower control arm bushings — which affects your steering, braking. This bulletin is numbered 08-055. For more info, contact Acura client services, at (800) 382-2238.
And if you want more automotive news, go to carcareforthecluelesss.com, or pam's shop web site at pamsmotorcity.net