Listen:
Car Care for the Clueless – How to find a repair shop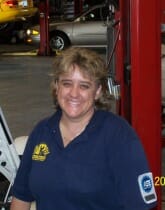 Podcast: Play in new window | Download
This week's episode of Car Care for the Clueless, host Pam Oakes discusses how to find a repair and tire center in your area. Joining her this week is Bev Oakes — Pam's mom — and adds another female perspective on the quest for quality car care. Pam points out that it is important to look for the ASE-Blue Seal logo and ASE-certified technicians while choosing your future auto center.
Also back by popular demand, our gadget guru Peter Sudak has an item under $20 that sounds like a million bucks. For older vehicles, Peter has located a device that you can use your MP3, MP4 or other recording device — right from your dash.
Always remember, you can be car care savvy by reading Pam's book "Car Care for the Clueless (or How You Can 'Make Money' While Maintaining Your Vehicle)" from the shop's web site: pamsmotorcity.net or carcarefortheclueless.com