Listen:
Car Care for the Clueless – Catching up with the motor mail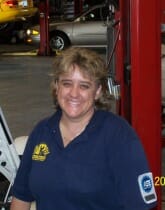 Podcast: Play in new window | Download
This week's episode of Car Care for the Clueless, host Pam Oakes catches up with her listeners' emails. We will feature getting the most MPG out of your motor car, new tires versus used tires, keeping the key fob dry and noises and rattles that come from under the hood.
Our gadget guru Peter Sudak is back and explains that On Star isn't just for your General Motors cars and trucks, anymore. Now, anyone can have the personalized service from the motor city and Peter explains how to do it.
Our trouble service bulletins cover Ford, Lincoln and Mercury SUVs and light trucks experiencing a water leak. This is covered under bulletin #08-24-8/08-1-4. This is for vehicles with sun roofs that leak while going through a commercial car wash. There is no recall for this issue, but your local, ASE-certified technician and/or dealership can correct the defect for your vehicle.
Toyota Camrys with trunk rattles — help has arrived. There is a bulletin #T-SB-0168-09/AU002-07 that covers the noise and a fix. Again, this is not a recall and should not be repaired in your driveway. Have your local, ASE-certified technician and/or dealership take care of this trunk issue for you.
And if you want to learn more about your vehicle and maintenance required, get Pam's book, "Car Care for the Clueless (or How You Can 'Make Money' While Maintaining Your Vehicle)". It is available on the book's web site: carcarefortheclueless.com or at Pam's shop web site: pamsmotorcity.net.And look for Pam's latest book "Car Care for the Clueless: How to Purchase a Used Vehicle" available in December.